CURRENT SERIES
MUSIC GRAPHICALLY PHYSICALLY CREATED AS LINES
50 OIL PAINTINGS USING MUSIC
FROM ACROSS THE WORLD.
CURRENT COUNT # 45.
About the Vibrations Series
This series is inspired by feelings and music. I curate music with feelings I want around me. It's my way to visually show culture and values. I select music from across the world and history.
Science Geek: Quantum physics says everything is energy. Vibrations are the energy of music.
I'm currently creating a set of 50 individual songs as vibrations. Each painting is oil on canvas and 20 x 16 in.
The complete set of 50 is 111 square feet.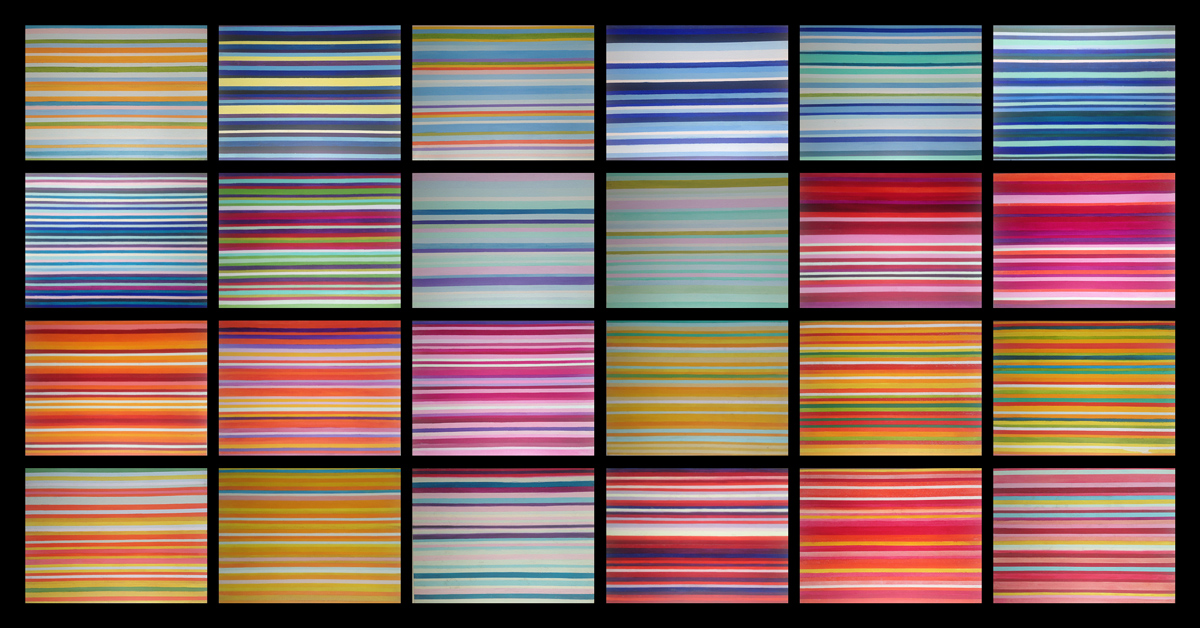 24 of the 50 Vibrations
partial image
oil on canvas
20″ x 16″ each
INTERESTED IN ACQUIRING THE COMPLETE SET?
50 vibrations, 50 songs, 50 cultural statements.
What is in the 50 vibrations Set?
This Vibration Set comprises 50 songs representing wealth build on the feelings of Passion, Bliss, Joy, Ecstasy, Flying, Inevitability, Serenity, Love, and Playfulness.
Would you enjoy these feelings?
What IS THE MUSIC in this series?
Each set of music is grouped into a theme, a feeling that links that these songs inspire.
Vibration Passion
| | |
| --- | --- |
| Passion | High Society |
| Shined on Me | Praise Cats with Andrea Love |
| Chambermaid Swing | Parov Stelar |
| Ma Durga | Krishna Das |
| My Life Before me | Stephan Konick |
Vibration Joy
| | |
| --- | --- |
| Jump in the Line | Harry Belafonte |
| Alegria | Cirque de Soleil |
| Happy | Pharrel Williams |
| Griselda – Per la Gloria d'adoravi | Luciano Pavarotti |
| Magnificat cum Alleluia | Traditional |
Vibration Bliss
| | |
| --- | --- |
| Amazing Grace | Paul Robeson |
| Tourare (The Ambergris Remix) | Laya Project |
| Harirum | Judi Shanghai |
| Recuredos de la Alhambra | Tarrega, John Williams |
| Quebecois: Valse Frontenac | Chris Norman |
Vibration Ecstacy
| | |
| --- | --- |
| When the Saints Go Marching In | Louis Armstrong |
| Hanuman | Rodrigo y Gabriela |
| Secret Energy | Monjes Budistas |
| Ascension | Sacred Earth |
| Deo Gratis | Paul Van Nevel: Huelgas Ensemble |
Vibration Love
| | |
| --- | --- |
| Stand by me | Ben E King |
| Shined on Me | Praise Cats with Andrea Love |
| I Danced in the Morning | Traditional, Salisbury Cathedral |
| Dancing Shiva | Sacred Earth |
| Can't Help Falling In Love | Elvis Presley |
| There is a Place | Wild Roses |
| Only Time | Enya |
| Hallelujah | Rufus Wainright |
Vibration Flying
| | |
| --- | --- |
| Safe and Sound | Capital Cities |
| Interstellar | Hans Zimmer |
| Enjoy the Rid | Krewlla |
| Thunder | Imagine Dragons |
| Summer Dreaming | Kate Yani |
Vibration Playful
| | |
| --- | --- |
| Be My Sailor | ZeeBee |
| Good Vibrations | The Beach Boys |
| Summer Holidays | Cliff Richard and the Shadows |
| Maktoub | Sean Bay and Mehdi Mouelh |
| Can-Can | Jacques Offenbach, Vienna Philharmonic |
| Doo Uap, Doo Uap, Doo Uap | Jean Gabin |
| Cinnamon Girl | Dunkelbunt |
| Fossils | Camille Saint-Saens |
| La Donna è mobile | Verdi, Domingo |
Vibration Inevitable
| | |
| --- | --- |
| One by One | Enya |
| Flight of the Bumblebee | Rimksy Korsakov, Wynton Marsalis |
| Dance of the Sugar Plum Fairy | Tchaikovsky, Richard Bonynge |
| Prayer to Hanuman | Robert Glass |
| Satori | Rodrigo y Gabriela |
| Ax Deorum | Enya |
| In the Hall of the Mountain King | Peer Gynt, Adele Stolte |
Vibration SerenE
Songs of calm, confidence and serenity. The current set is being selected. Shortlisted at the moment are:
| | |
| --- | --- |
| Gayatri Mantra |   |
| Canon D | Pachelbel |
| Variconna |   |
| Moonlight sonata | Beethoven |
| Om Mani Padme Hum | Mantras from Tibet |
| Between Father Sky & Mother Earth |   |
| Kyrie Fons Bonitatis | Canto Gregoriano |
| O voo do Pomba | Milladoiro |
| Kyrie Fons Bonitaitis | Cano Gregoriano |