Vibration Passion
A set of 5 songs as a single artwork
TEDx at the ArtScience Museum
2017
Vibration Flying #4
Inspired by the song Safe & Sound by Capital Cities
World
The original work, a 14 meter mural.
2007
Have you ever yearned to feel?
The inspiration for vibrations
When I burnt out. I simply felt exhausted.
I'd go into town with the energy for one errand. I'd get home and collapse.
Listening to music, I'd feel more centered.
Mostly I felt nothing. Numb.
I yearned to feel alive, to feel vibrant.
 One day, I was challenged… could I paint the music?
Vibrations are the result.
Vibrations Concept
inspired by the space at MONA, Tasmania
5 Playlists
Photograph: Artist Solo Exhibition
2015
Songs
Available as individual songs or as a playlist collection
Vibrations on Aluminium
On display at Capital Tower, Singapore
Vibrations are global
They are in Spain, Germany, the UK, the Netherlands, the USA, New Zealand, Singapore and Australia.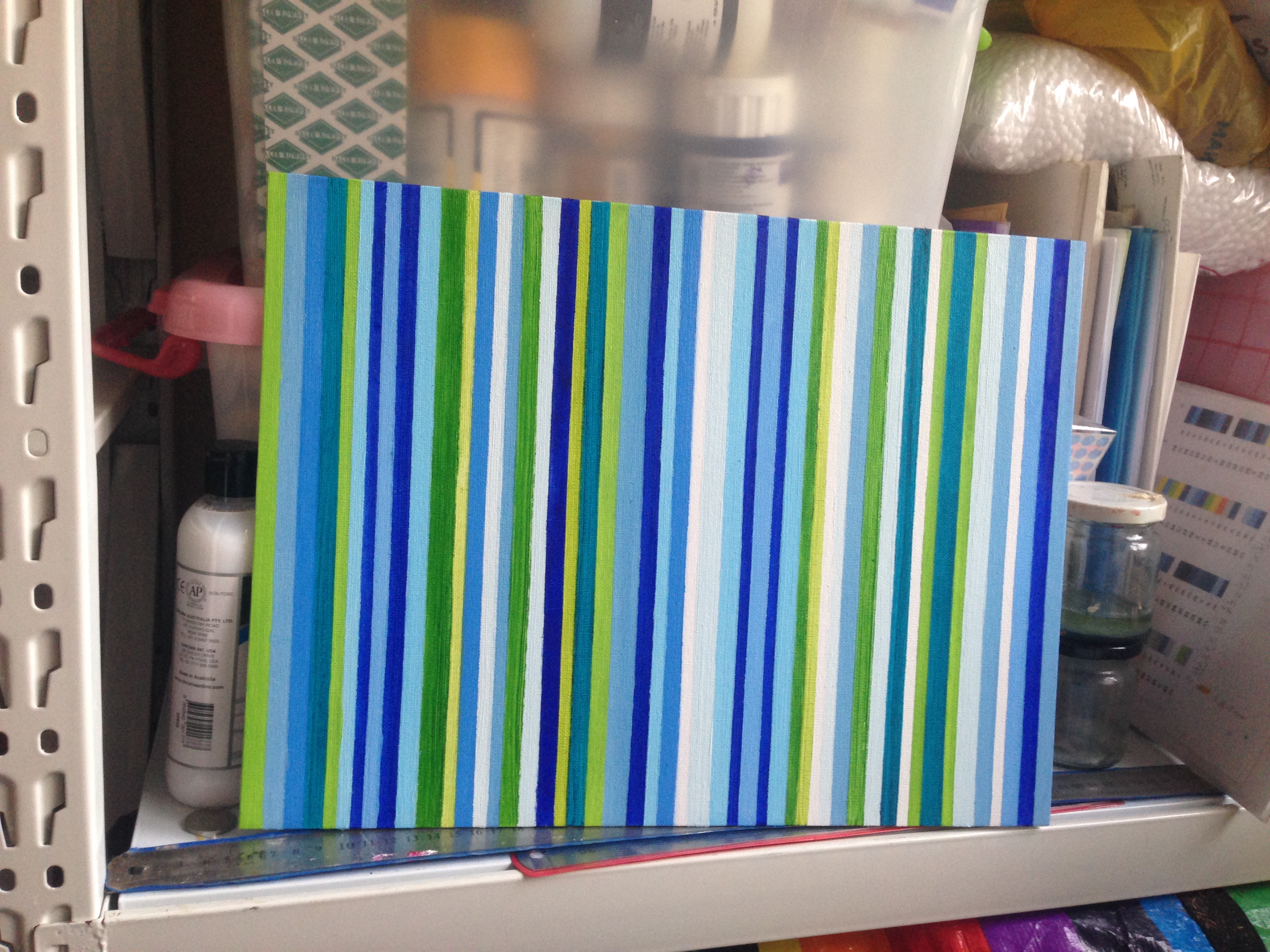 Vibration Flight #3
Drying in my studio
The Four Step Process to Create Vibrations

Step 1 Curate
Select the feeling to paint and curate the song to match it.
Step 2 Concept
Develop an illustration in pencil to explore what it will look and feel like.
Each line is a stroke of color, of light and of emotion.
BA
Step 3 Create
Paint the Vibration in oil. This step takes between 2-8 weeks.
Step 4 Connect
Ready the original art piece for it to be enjoyed.
Vibrations come in three forms
Single songs from the artist's archive.
Original oil painting 20″ x 16″  
Ink print on aluminum
Playlist of songs in sets of 5, 7 or 9 from the artist's archives.
Original oil painting sizes based on songs
Ink print on aluminum
The Collectors Set of 50 original oil paintings.
Price on Application
I wanted to feel joy, so I found songs that felt joyous.
Then I created Passion. Bliss. Ecstasy. Then Flying, Playfulness, Serenity and Inevitability.
Enjoy them.

More vibrations
As the set of 50 songs
As visual playlists
As tools for meditation
50 Vibrations
24 of the 50.
10″ x 16″ each
oil on canvas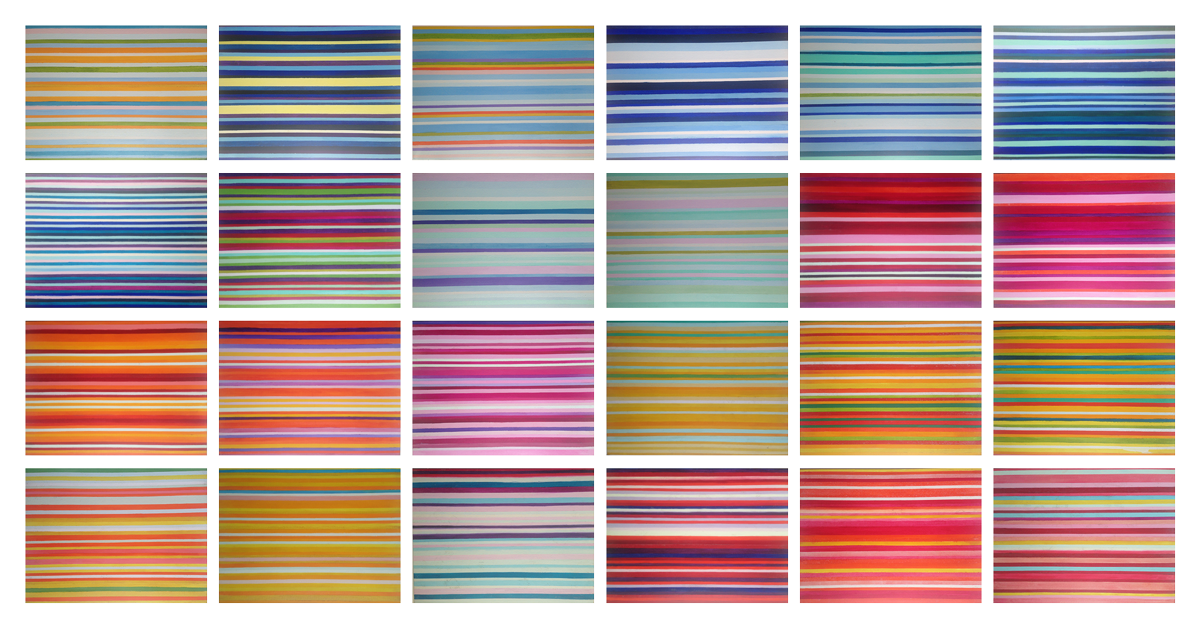 24 of the set of 50 vibrations
partial image of each
What makes up the 50 vibration SERIES?
This Vibration Series comprises 50 songs representing Passion, Bliss, Joy, Ecstasy, Flying, Inevitability, Serenity, Love, and Playfulness.
Which feeling would you enjoy?
Vibration Passion
The 5 songs in the Passion set
Vibration Love
Songs – yes, more as Love makes the world go round
Vibration Serenity
Songs of calm, confidence and serenity. The current set

Passion, Joy, Bliss, Ecstacy, Life
The playlists are the based on music selected to reflect an emotion.
Orginal Canvas on Oil
120 x 100 cm
Available as prints on aluminium at varying sizes
Each has it's own certificate of authenticity and unique identifier.
They may be displayed horziontally (my personal preference) and vertically.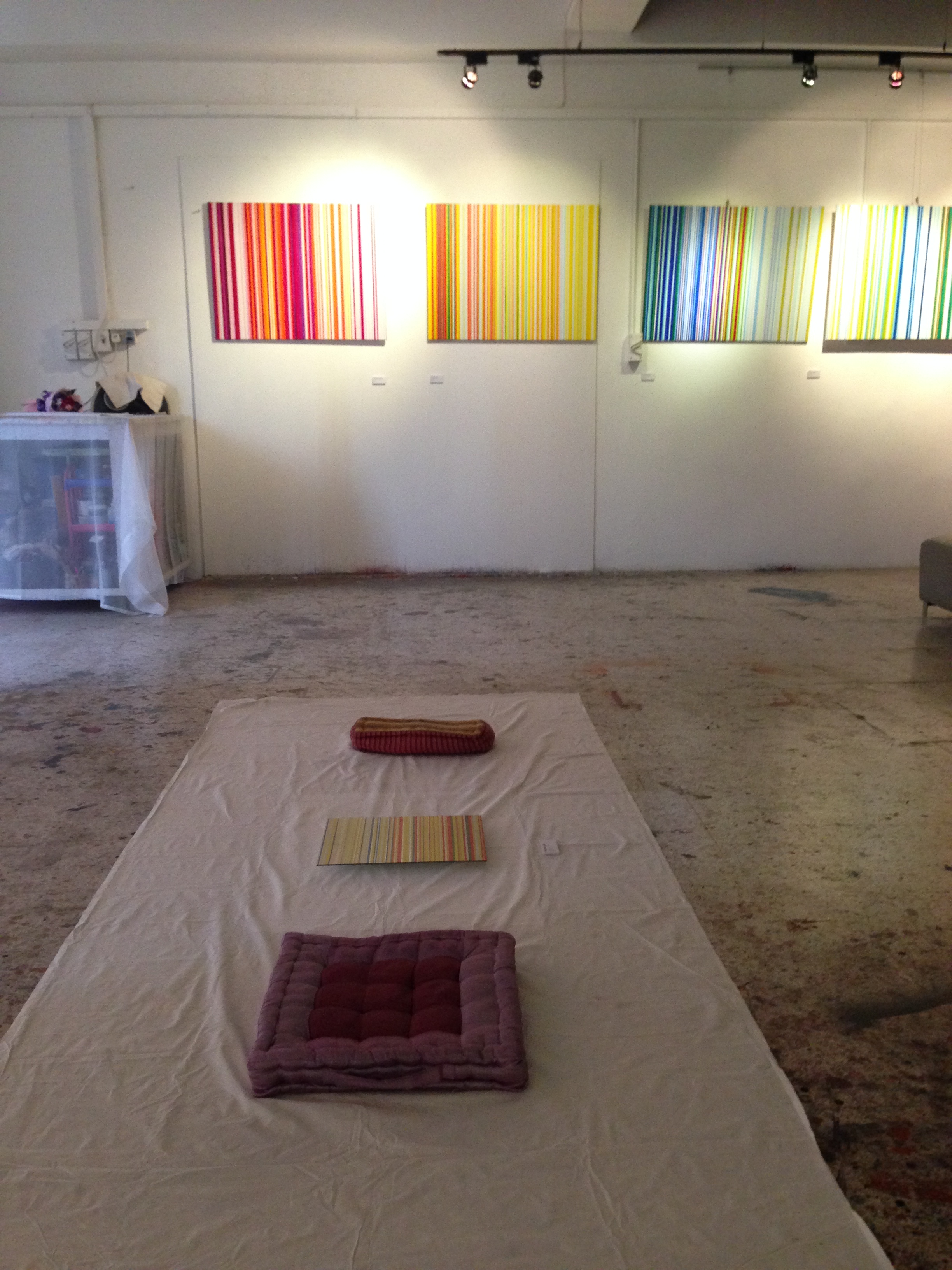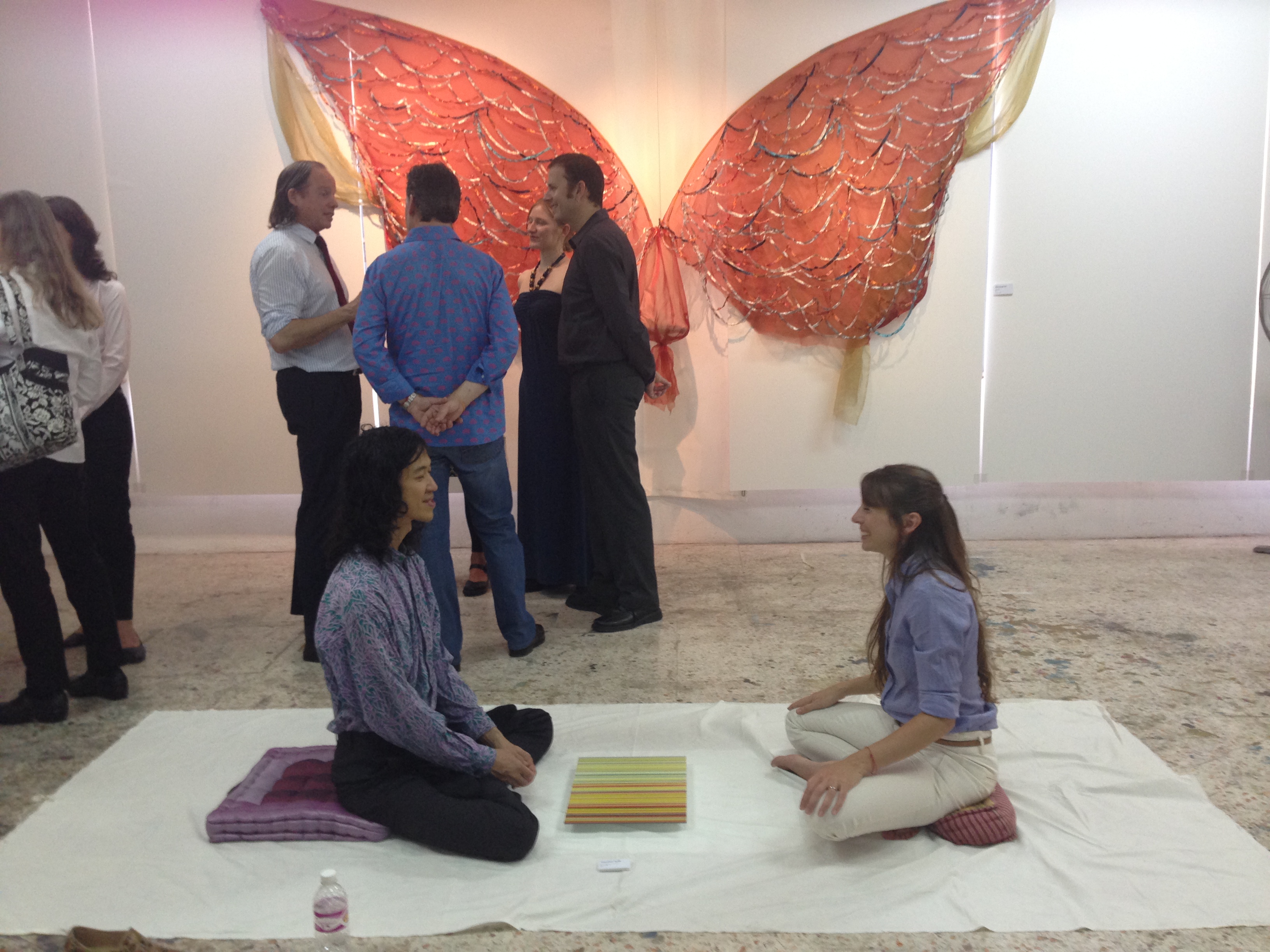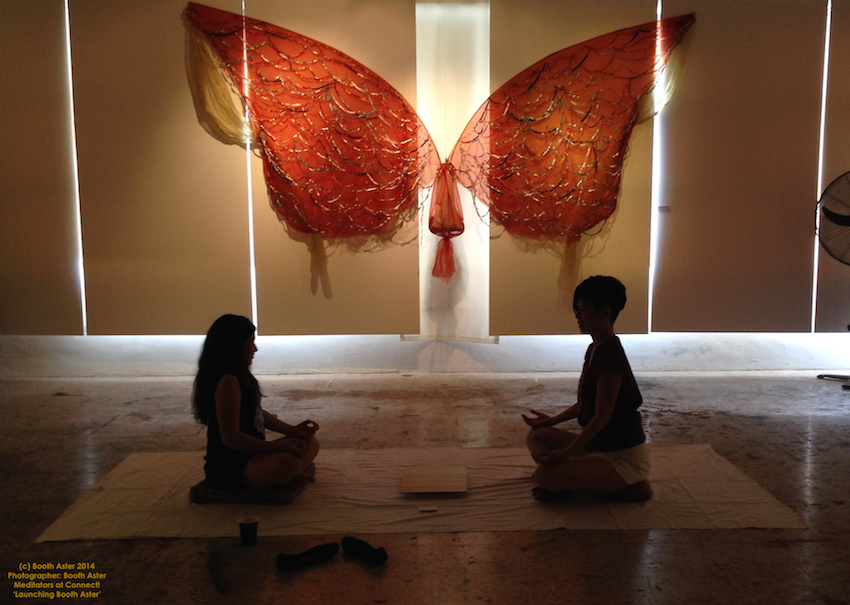 Geek Stuff for Meditators
Five Buddhist mediators attended my first exhibition with Vibrations in 2015.
They'd just come from a 3 year, 3 month, 3 day silent retreat. They said to me they could feel the vibrations. Literally.
Wow.
They sat and meditated with a Vibration in the middle. We swapped pieces. They picked the feeling. Spot on.
Wow.
The daughter of a guest sat and meditated. She felt them too.
These vibrations are high quality inks printed on aluminium in the USA. My stepfather, a hydro engineer, calls aluminium solid electricity.
You can hang these vibrations on a wall or use them as a set to add a specific tone to your meditation.
If you'd enjoy your own vibrations for mediation or to add good energy to your room, click here to acquire.